Narcissism, Sympathy, Egos and Tories
I always feel sorry for narcissists. They must never get any sympathy. I mean, other people with mental conditions always get sympathy. You know, someone would sympathise with someone if they had schizophrenia or something like "awwww you poor thing" but if they were a diagnosed narcissist "OH WHAT? YOU THINK YOU'RE BETTER THAN ME DO YOU!?" Typical myopicness. It's so true though, people really only care about themselves
"I know you're going through a rough time so I am here to help you.."
"Fuck off"
"WELL FINE, IF YOU'RE GOING TO BE LIKE THAT I WON'T HELP YOU!"
Why don't people understand that the ones that say "fuck off" are the ones that need more help than anyone? They're more unhinged. They see through your lie of altruism, they see you're conceited and it really makes them all the more scared and all the more lonely when you verify their convictions and abandon them. And why do you abandon them? Because they attacked your ego. You waltz into their life with your shining armour and expect to be welcomed into their arms as the great saviour and liberator and wap, you got a metaphorical arrow in your eye. That was a historical reference by the way, however, in the event it was referencing, the arrow was much less metaphorical.
In other, completely unrelated news to egos, sympathy and narcissism, the elections were yesterday. Labour won unsurprisingly. Howard will step down. He followed the plan well. You see, when ol' Major left the party, he left a secret Conservative party leader constitution that the leader must abide to. Nobody has rocked the boat yet.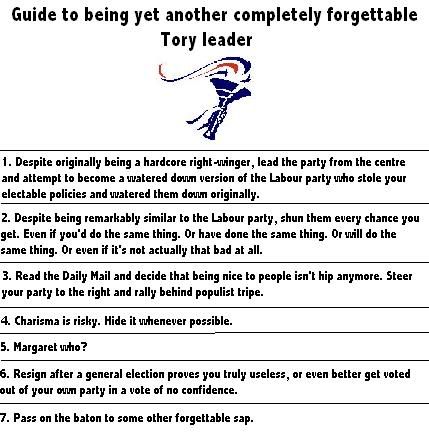 You have done your job well Mr Howard.